20.02.2018
Short update on the record release show for the THE INSERTS album: The party will take place on April 6th at the K19 Café, Berlin-Friedrichshain. Further information coming soon.
14.02.2018
The test pressings for THE INSERTS album have arrived and sound fantastic. Hooray. Since the record will be heard and discussed in the April/May issue of Ox Fanzine in the "Geschmackscontrol" by 10 authors, I already needed 10 review copies in advance. The wonderful people from the press factory my45.de have therefore pressed 13 copies in advance and delivered them with labels and covers. A thousand thanks for this great extra service.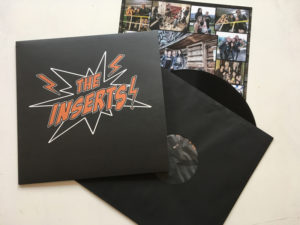 12.02.2018
Great news to everyone: In August 2017 THE INSERTS entered a studio in Switzerland and recorded 11 tracks for their first full length release on Hundemann Records. I'm awaiting test pressings shortly. Official street date will be 6th of April – flanked by a release party in berlin. More infos to be announced soon.
The record will be released in two different colours: orange vinyl (Band Edition) and black/white marbled vinyl (Label Edition) You can pre-order the record here.
---
>> News Archive