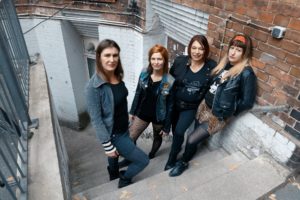 Band members:
Nanke
Bass
Elli
Vocals
Ohiane
Drums*
Gabi
Guitar
* on the 7inch former bandmember Kathi plays the drums, on the LP it is Marina.
Bio:
The "Inserts" story began around new year's eve 2009 when singer Elli and bass player Nanke (both from former CRUMPETS) met guitar slinging Gabriale and cataclysmic Kathistrophe on drums for their first rehearsal. It was the appropriate start of THE INSERTS at the start of a good new year 2009, musical firework and champagne.
The CRUMPETS had split up some months before and Elli and Nanke agreed that Gabriale and Kathi were the ones amongst Kreuzberg's creatures to start a new project, although not really knowing them. After more than a few liquor soaked nights, besides a new friendship the new lineup was finally cemented when Gabriale and Kathi decided to take over on guitar and drums. With its new lineup solidified, the band was just starting to hit its stride and six months later, the four girls played their first show, moving full steam ahead ever since. In late 2012, Kathi decided to leave Berlin heading towards Los Angeles – not before having cut the drums for THE INSERTS' debut on legendary Hundemann Records! Shortly afterwards, Marina joined in at full throttle and so THE INSERTS are showing no signs of slowing down: In late 2013, with Marina on drums and the debut single at hand, the band will finally hit the road and play some new shows – grrrrrrrrrrrrr!