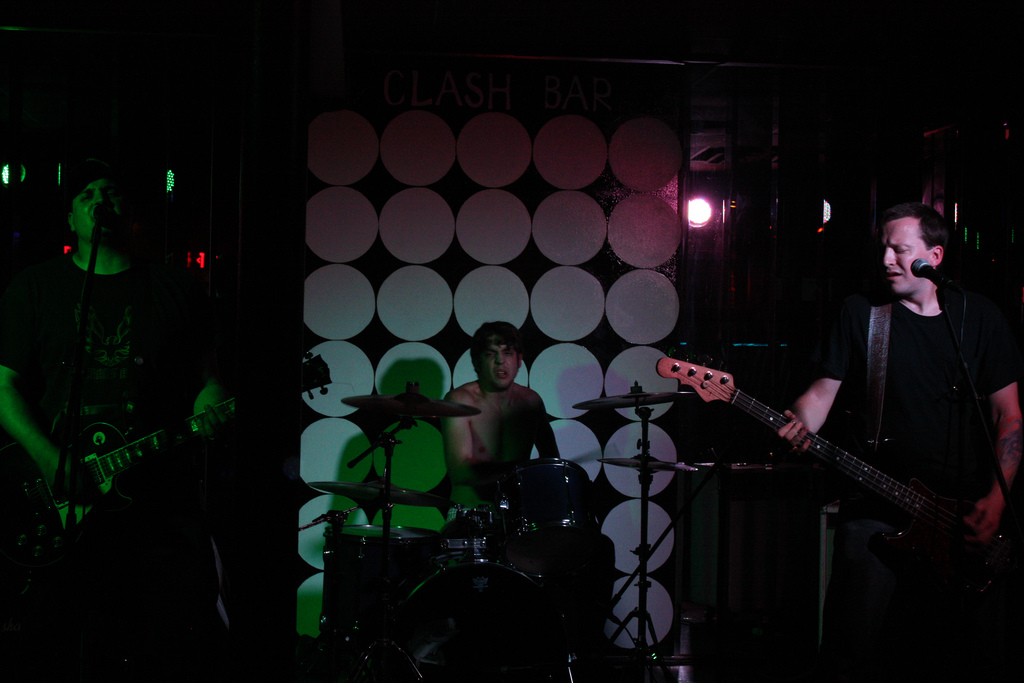 Band members:
Bryan Maiden
Guitar, Vocals
Beer: Budweiser cans
Likes: Bass fishing
Origin: Texas
Young Squire
Drums
Beer: Open container while driving
Likes: Bird watching, annoying Bryan and Shane
Origin: Texas/New Jersey
Shane K.
Bass, Back-ups
Beer: Miller
Likes: Bass fishing
Origin: Wisconsin
Bio:
Officially you could say this band started in Brooklyn, NY. It's where Shane and Bryan met, where they held their first practices and played their first shows. While they got together in Brooklyn, they got together because of Denton, TX. Before Williamsburg was young and hip, a group of artists from Denton were attracted there by cheap rent and a warehouse space. Parallel to this, Bryan and Shane were on separate paths criss crossing the country. Shane settled in Brooklyn and met the Dentonites. Bryan begrudgingly settled in New Jersey, but would get out to Brooklyn for a show or to meet his Denton buddies from time to time. On one of these trips Shane and Bryan discussed the important things in life, which consisted mostly of music and things related to music. Thus was the birth of the Von Erich Suicide Mission. Two like minded drifters brought together by a little known town 2000 miles away.
…and then there's Young Squire. Not to be a footnote, because this wouldn't have started without a drummer. Squire claims that he was born in Texas, but he was raised in New Jersey. He found Bryan's home recordings on a website Bryan set up and offered to play drums. Upon meeting, Bryan noticed a number of red flags. Squire was a bird watcher, a volunteer fireman, played hockey and claimed to be an architect even though he was only 20 at the time. The main concern was his earlier involvement in backyard wrestling – there may even be video evidence of this. Still, Bryan allowed him a chance because he chewed the same tobacco and cheered for the Texas Rangers and Dallas Cowboys.
The home recordings would lay the foundation for VESM. Songs about the life and times of a rough and tumble wrestling family from Texas set to a creep rock sound track. Oh, and occasional songs about nachos, cars and girls.
Notable quotes:
"Man, you guys ran off every cute girl in this room… that was AWESOME!"
– Random bartender at Trash, Brooklyn, NY –
"Hey, we serve nachos now because of you guys."
– Mark, Owner of Clash Bar, Clifton, NJ –